Description
—White color with full spectrum, no noise, lightweight, save 50% energy
Why
Use Our Led
More efficient and energy saving: Save up to 50% energy than HPS/HID
Zero Noise: No fan, no noise, feel free to put it anywhere you want
High yield: White color with full spectrum ensure plants need, increase overall yield
Descriptipn
Upgrade SMD; Noiseless; Lightweight
1
Zero Noise&Lightweight
No fan, no noise. Feel free to put it anywhere you want,offer a more healthier room for you and your plants.With simple structure and light weight, easy to hang and use.
2
Upgraded SMD chips
Use the newest SMD chips, Quality Epistar chips,no glass and cover plate over the chip,each led is 3 x brighter than others and enjoy a longer lifespan.
3
Unique Design and Adjustable Power
Optimum aluminum shell board, less heat,same reflective effect as HPS,Easy to change the power by adjusting the scale on the driver,give your plants a best growing environment
4
Sunlike Full Spectrum
Used the fashionable Sunlike full spectrum light,much choser to natural lights.12 band spectrum with high red ratio,ensures maxim photosynthesis, high yields,THC, vitamins.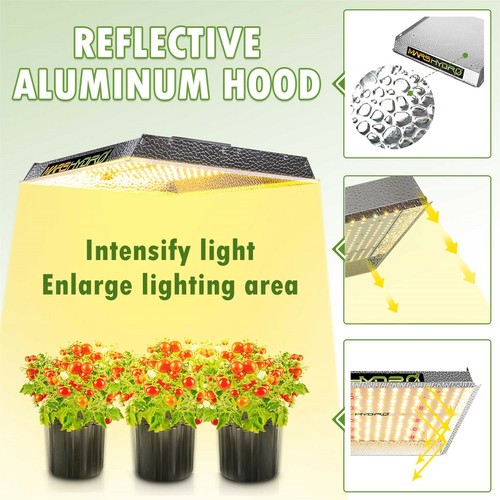 Specification
More details about TS 1000W
| | |
| --- | --- |
| LED Quantities | 342pcs Epistar (HI-LED) leds |
| Wattage | 1000W |
| Power Draw | 110V : 150W±5% ; 220V : 148W±5% |
| Amperage | 1.25A/110v, 0.64A/220v |
| Lumen | 110V: 22216lm±5% | 220V: 22181lm±5% |
| Core Coverage | 2.5ft x 2.5ft = 76cm x 76cm |
| Max Coverage | 3 ft x 3ft= 90cm × 90cm |
| Equivalent to HPS/MH/HID | 250W |
| Par Value at 18″ | 552μmols |
| Spectrum | 660~665nm, 3200~4200Knm, 5200~6800Knm |
| Input Voltage | AC85V-265V |
| View Angle of LEDs | 90/120 mixed |
| Weight | 3.75lb/ 1.76Kg |
| Dimension | 36 x 33 x 3.4cm |
| PPE | 2.2 umol/J;2.2umol/s/w |
| Max Yield | 2 g/watt |
Zero Decibel
Quiet & Safe
Mars Hydro TS 1000W LED Grow Light combo Full spectrum